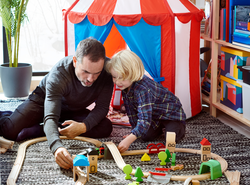 Right now, more than ever, home is the most important place in the world ­– a place to relax, play, work, learn, and be together. That's why we're here to help make your everyday life as enjoyable as possible
As leaders in life at home, IKEA wants you to be happy at home, and enhance how we need to use our spaces for different purposes.
In this episode, we're joined by Christine Gough, Country Home Furnishing and Retail Design Manager for IKEA Australia to provide her advice and expertise on what we need to consider when setting up areas to entertain our children in the home.